Topic: OSCAR Earnhardt / McFarland Memorial NASCAR Race at Tom's World
There was a very good turnout of 13 racers for the Earnhardt / McFarland Memorial NASCAR race at Tom's in Bend on Saturday May 20th. OSCAR races are always great events, featuring a qualifying session followed by four minute heat races. After qualifying the field was broken up into two divisions, Xfinity group and Cup. The first group to race was the Xfinity division, made up of the bottom race seven qualifiers. Tom's track is one of the most difficult tracks I have ever raced on! I have yet to qualify in the top half, so I usual I raced in the slower division. Now although this sounds pretty dismal already, I will say that even racing in this lower division is quite challenging and fun! The racing was very close, and the finish results for the Xfinity race were very close to many posted by the Cup racers!
For this Xfinity race we raced 4 minute heats, for four rounds of racing or four times through. In OSCAR races the winner of the Xfinity race has the option of taking the Xfinity trophy or moving up into the Cup race. Korbyn won the race and chose to move up into the Cup race. Racers that make the move up are awarded the prestigious Iron Man plaque! That gave the Xfinity win to Stuart or Stew Meat as we like to call him, who was just 3 laps behind Korbyn. Here are the Xfinity results: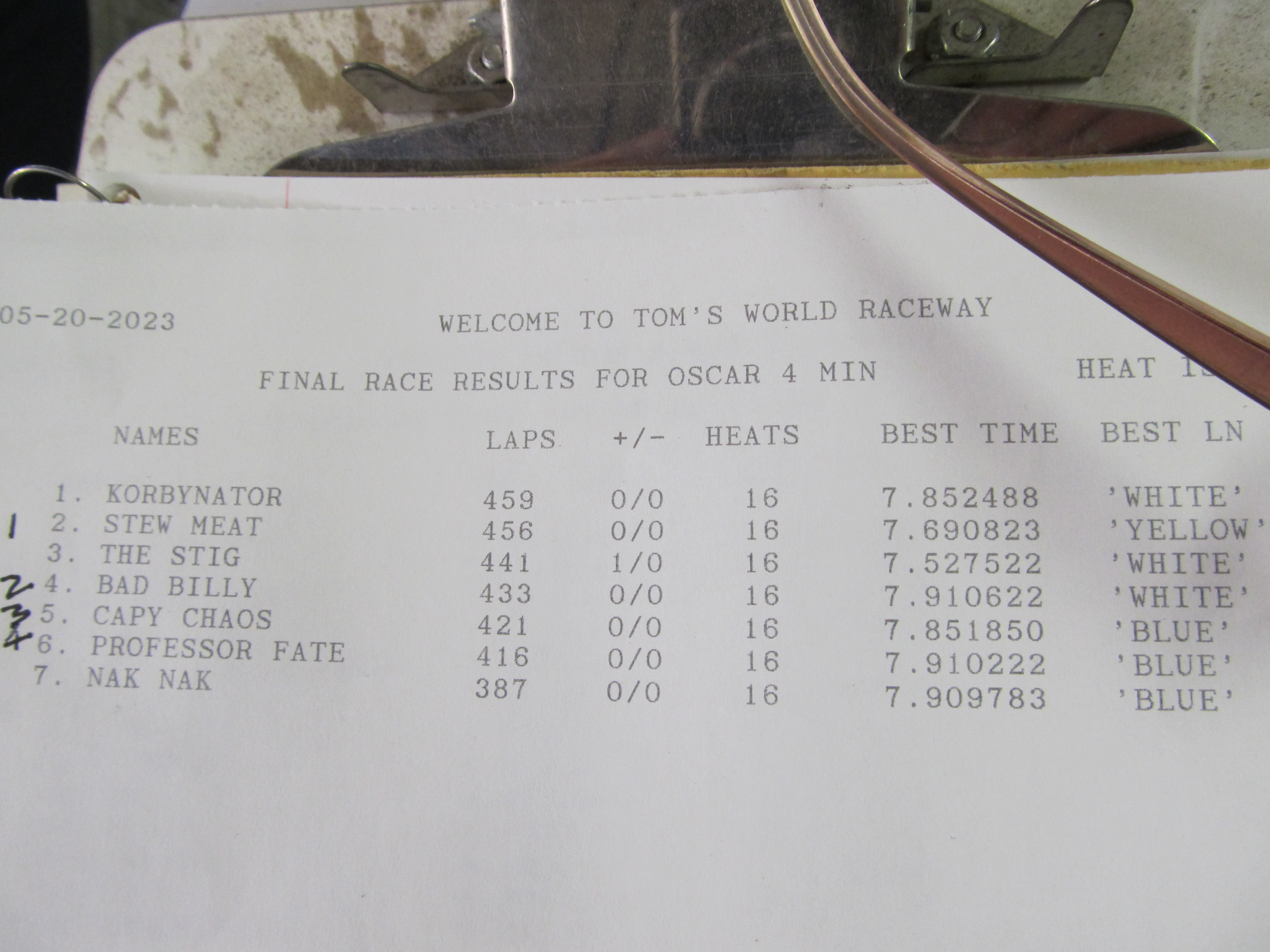 After the Xfinity race and a lunch break, featuring an awesome spread including pulled pork sandwiches, racers readied for the Cup main event! The race format for the Cup race was the same as the Xfinity race, 4 rounds of 4 minute heats. One thing to note is; this makes for 16 rounds or 32 minutes of racing for the Iron Man!
What makes Tom's track so challenging is the combination of super high speed sections of the track that include a 180 degree steeply banked turn, followed by two long straights connected by two tight 180 degree flat turns, one of which is referred to as the 'Dead Man". And if that isn't enough there is the tight infield section that also has a "hump" style bridge in it. This "hump" style bridge provides for some exciting "airborn" action if negotiated improperly! With all these exciting possibilities for "action", motor failures, breakage, and total car carnage is not uncommon! Such was the case for Bob Nak as he was the unlucky recipient of multiple "rider" situations resulting in spectacular off track excursions! Bob set a new vertical record hitting one turn marshal in the head as well as hitting the ceiling, and a new distance record when his car landed in the adjoining pit area room. Congrats to Bob......I think?
For this race Curtious Curt was going for his tenth consecutive win. He was the top qualify but, his hopes for number ten were crushed by Tom! A motor issue dropped Curt to second place, just a mere four laps behind Tom. Here are the Cup results: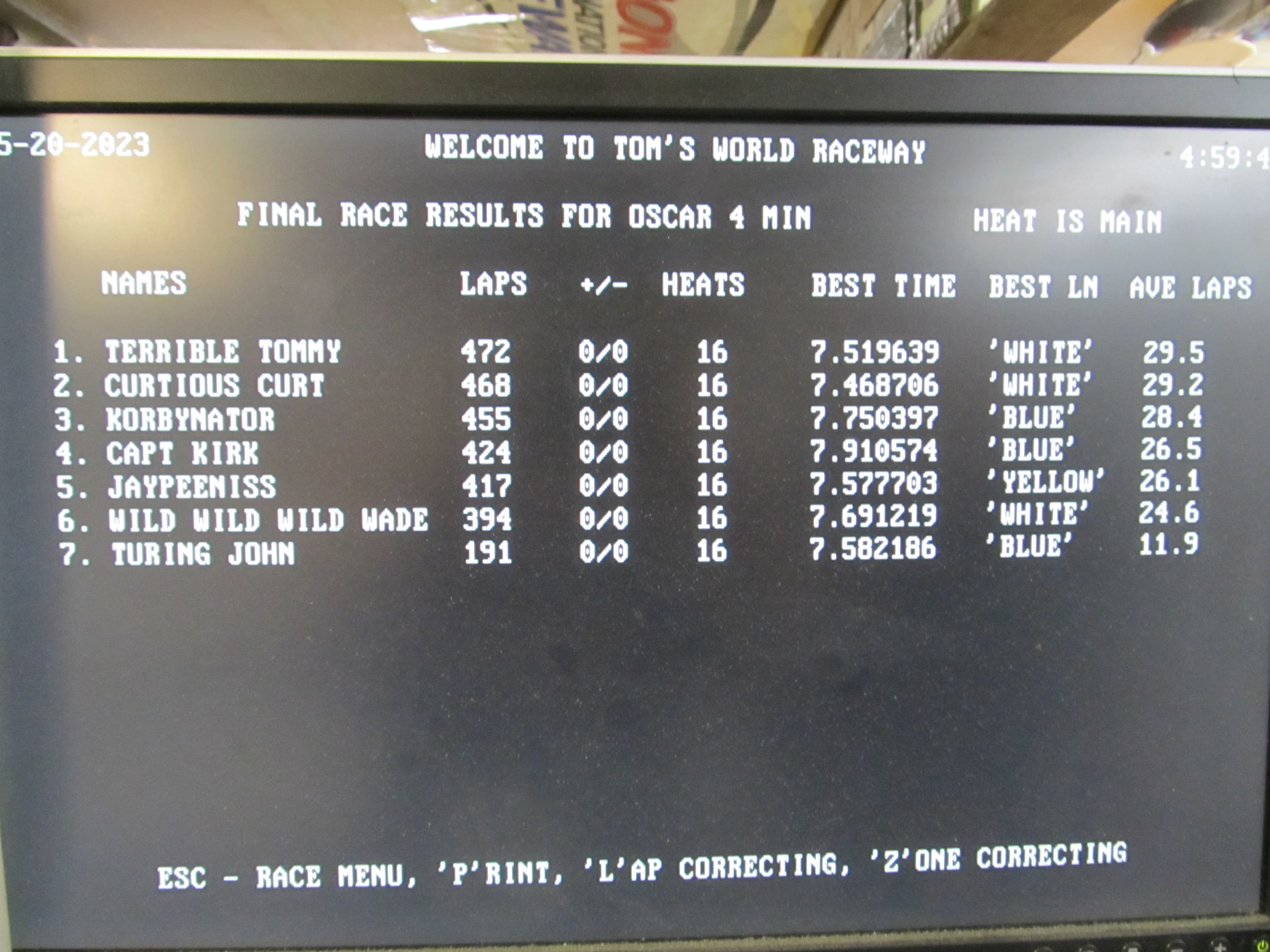 I'd like to thank Tom Street and all the folks in Bend for providing us with such a great race! Going to a race at Tom's is always circled on my event calendar! Many of us "veteran" local racers remember racing at Lee Dundas' barn track. It is considered an iconic track in our history of racing, and "THE" place where all the Northwest hardbody racing started! Sadly it is gone but, Tom's World is the new track icon! Don't miss out on being part of the experience! Mark your calendars for next year!